Warm Welcome!
For thousands of years man has used the Earth's own resources. Iron was produced, by hard working men from the Dalecarlia area and farmers from our mining district, using blast furnaces. I shape the iron, by heating it to 1100 degrees, using a forge. It is fascinating to see the hard material change and turn in to what I want it to become by shaping it under the hammer.
I studied to be a smith at Sätergläntans community college in 2001/2002. We build a forge on our farm in Borlänge 2002, and I have been working there ever since.
I take custom orders and also give training courses.
Weekendcourses
No prior knowledge of blacksmithing is required when we go through the basics (pre-stretching, widening and twisting of metal) in the course. If you do have prior experiences in blacksmithing you can also develop your skillset further by attending this course.
The course is from 09.00 till 17.00 on saturdag and 09.00 till16.00 on Sunday with lunch and tea breaks.
The costs of this course are 3000 Skr/person. This includes materials, coal, lunch & tea.
Check out my website for the course dates!
Products
Here you can find hand forged iron products. You can also order custom items or hand in old forged items for mending/reproduction.
You can also find corporate gifts here!
More information can be found on the website.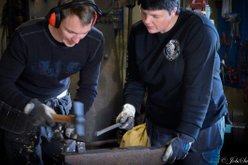 Be an blacksmith for a couple of hours?
Now is the chance to try out blacksmithing for a couple of hours one evening. You can book for a group, company or perhaps even a family adventure? The group size is 4-6 people. Children are of course welcome but to truly be able to participate they should be at least 6 years old. You are sure to get an experience that you will never forget!
The adventure begins with learning how to forge metal and see a piece of metal transform in to a self-made hook that you can bring home. Through this journey you will learn how to heat, stretch and bend metal and how to protect it from rusting by blackening it with linseed oil.
We end our adventure with cooking Swedish 'kolbullar', coffee and Swedish 'skrabbelucker' over the forge fire and enjoying the atmosphere in the smithy and enjoy the food we made.
Everybody can borrow protective clothing, leather aprons, gloves and hearing protection.
Price.(Minimum 4 persons when booking!)
Adults: 500 Skr/pers.
Children: 400 Skr/pers (6 to 12 years)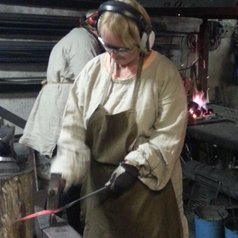 Interested? Contact me here